* ክብረ በዓል መድኃኔ ዓለም ለንደን 2 ሚያዝያ 2023 ዓ. ም.

* ፍኖተ መስቀል 2023

* ፍትሓት ቅዳሴ Fethat Kidase/Memorial Mass for our father Ato Oqbagebriel Embaye will be held on Wednesday 11 Jan 2023

* REVISED በዓለ ልደትን ጥምቀትን program

* በዓለ ልደትን ጥምቀትን program

* Subae2022 (

ዮሓንስ 19:26-27

) - new page is created,

click here

*

For 2015 Gheez calendar (2022/23)

Click here

(open in new window) Sep 2022-Dec 2023 New

*መልእኽቲ ሓድሽ ዓመትን ቅዱስ ዮሓንስ 2015(2022) ካብ ኣቡነ ፍቅረማርያም

Click here

*ምህልላ ፍልሰታ ሰኑይ 8 August ክጅምር እዩ (ሰዓት: 6pm)




*

Starting 20th July 2022 መደብ ብማርያም ኣቢልካ ምሉእ ወፈያ ሕይወትካ ንኢየሱስ (ናይ 33 መዓልታት ጉዕዞ ምስ እግዝእትነ ማርያም) Click here





*

Beal Medhanealem is on 3rd Apr 2022
* Lent2022 coming events:



*
ዝኽሪ ቅዳሴ ሓደ ዓመት ኣባ ኪዳነ ለባሲ
* ኣገዳሲ መግለጺ ብሰንኪ ለበዳ Covid-19, NEW Click here (04 Jan 2022)
* ኣገዳሲ መግለጺ ብሰንኪ ለበዳ Covid-19, Click here (24 Dec 2021)
* ናይ ታስዕቲ ትምህርቲ ኣብ ልዕሊ ህያባት መንፈስ ቅዱስ - A playlist with 10 videos
* New Playlist on Lent Audio teachings = 31 videos
* ፍትሓት ቅዳሴን
ቐብሪ
ን
ነፍስ ኄር ኣባ ኪዳነማርያም ለባሲ (
Requiem Mass and f
uneral service
for Father Kidane Lebasi),
Click this link
Great ecumenical program that will take place from Monday 22nd Feb until Wednesday 24th February. The time for us here in the UK will be from 6.30-8.30pm. We will share the link to the live viewing on the day.
* 01 Feb 2021:
With heavy hearts we share with you the passing away of our beloved

Father Kidane
on 31 Jan 2021. Father Kidane Lebasi started the Eritrean Catholic Chaplaincy in London many years ago. An inspirations to many and a blessing to all. He will be missed! Eternal rest grant unto him O Lord, and let perpetual light shine upon him. May he rest in Peace. Amen! Click here for a page dedicated to Abba Kidane
08 Jan 2021:
ኣገዳሲ መግለጺ ብዛዕባ ኣገባብ ጊዜኣዊ ምቁራጽ ኃባራዊ መሥዋዕተ ቅዳሴ ብሰንኪ ለበዳ Covid 19 ካብ ኣባ ኤፍሬም ዓንዶም
ን
ሓዋርያዊ ቤት ምኽሪ ምእመናን, for details, click here
(or go to this page)
New
* መስዋዕተ ቅዳሴ ናይ ልደት, ዋዜማ, ናይ ቆልዑት Nativity Play, ናይ ቆልዑት መዛሙርን መዛሙር ልደትን uploaded on YouTube, Click here New

* A new page is now created for Subae 2020....

Click here

* O

ur Liturgical Calendar for Gheez year 2013 (and up to

ታኅሣሥ 2014), Click here or here




*

New spiritual journey with Abba Ephrem Andom on "ብማርያም ኣቢልካ ምሉእ ወፈያ ሕይወትካ ንኢየሱስ" መዓልታዊ መደብ ን 33 መዓልቲ ስጋብ በዓለ ፍልሰታ (22 Aug 2020),

Click here




*

ኣገዳሲ መምርሒታት መድኃኔ ዓለም ካቶሊካዊት ቤተ ክርስቲያን ሥርዓት ግዕዝ ለንደን፥ብዛዕባ ኣገባብ ምጅማር ኃባራዊ መሥዋዕተ ቅዳሴ ኣብ ዘመነ Covid 19, Click here
*

A playlist with over 22 hours of video clips from our October

Subae 2019

is now on

YouTube

.

*

The Word of God and the Bible (ቃል አምላኽ አብ መጽሓፍ ቅዱስ)

#

መምህር

– ኣባ ግርማይ ኣብርሃ

ምድብ (

#

category

) – ቅዱስ መጽሓፋውን ታሪኻውን ትምህርተ መለኮት > ቃል አምላኽ.

እዚ ኮርስ (

#

course

)፥ አብ መንጎ ግልጸትን ቃል አምላኽን መጽሓፍ ቅዱስን ዘሎ ዝምድና የረድእ ፥ ተራ መጽሓፍ ቅዱስ አብ ርክብ አምላኽን ሰብን ክንድምንታይ መሰረታዊ ከምዝኾነ ይሕብር። Click here
and details on this
poster
(open in PDF)
---
* New CD No.2 Amharic by Abba Ephrem Andom
[New] on Sale now, click here

* New CD No. 2 Tigrinya Released by Mezemeran Medhane Alem and Abba Ephrem Andom [New] on Sale now, click here
7min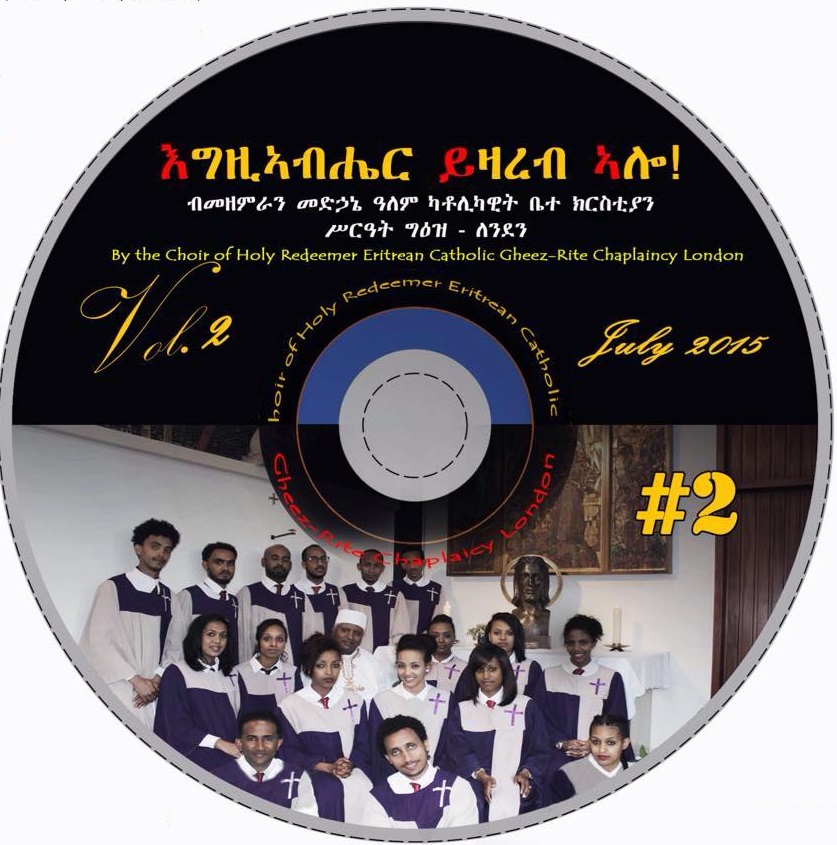 * 22min